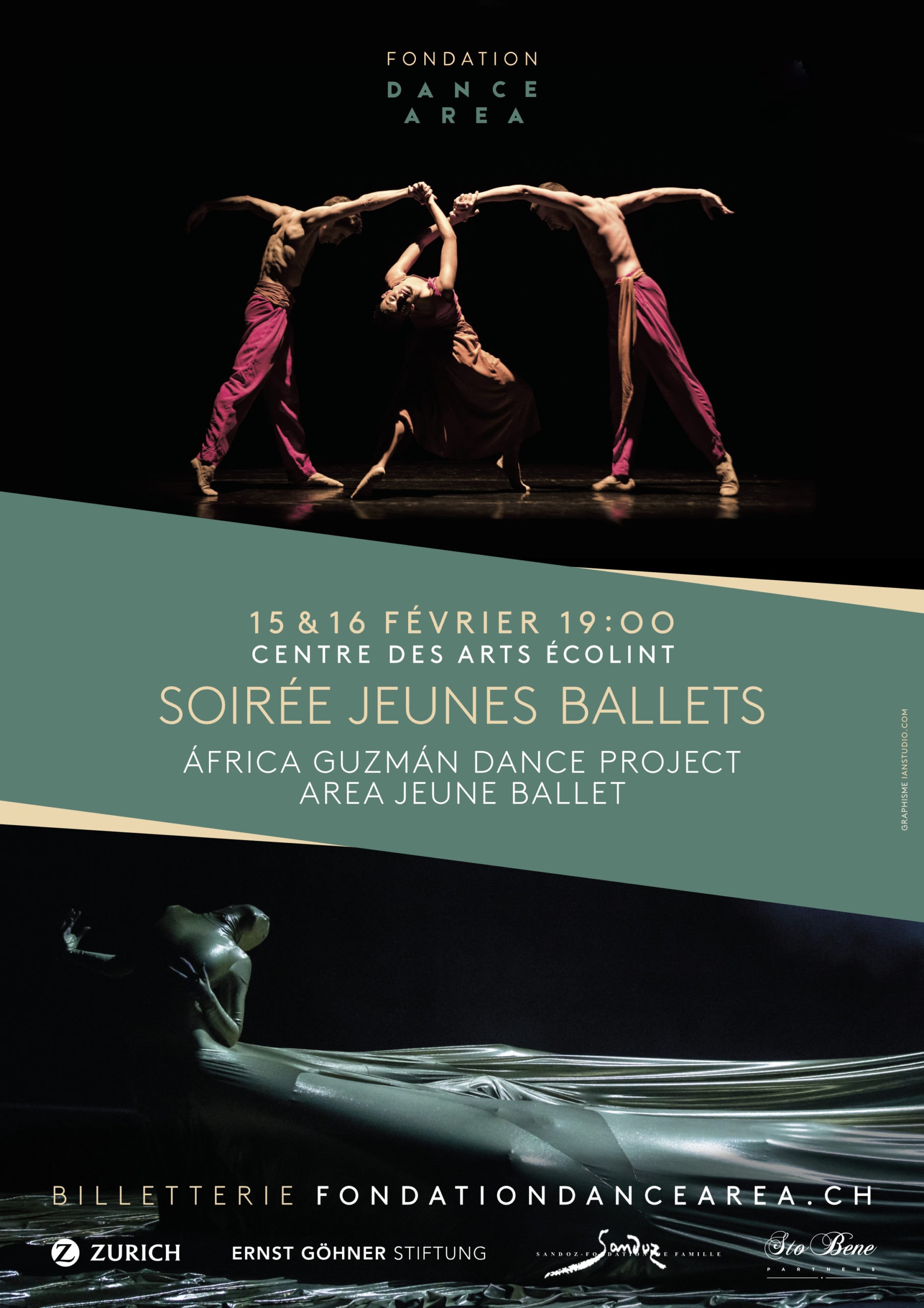 The Dance Area Foundation is pleased to announce
Two Junior Ballet Evenings
with the Africa Guzmán Dance Project Madrid
and the Area Jeune Ballet
Wednesday 15 & Thursday 16 February – 19:00
Arts Center / International School of Geneva
Duration : 1h30 with intermission
On stage, 30 young dancers with communicative enthusiasm and certain talent!

These two companies bring together young dancers from around the world aged 18 to 22. They are versatile, creative and life-changing and travel the local and national stages. Thanks to their multidisciplinary training, these young artists can present a wide repertoire that includes neoclassical ballet, contemporary dance and avant-garde creations.
 AREA JEUNE BALLET | Geneva
Un autre jour by Ken Ossola – Premiere !
Myth by Francesco Curci
Through two choreographic pieces, the young dancers of the Area Jeune Ballet evoke solidarity, freedom, rebirth and the future of young people in society. From the intimacy of a love duo to the ardor of a group of young people burning with a deep desire to live, we go through a succession of subtle emotions to tell of a youth in search of meaning.
ÁFRICA GUZMÁN DANCE PROJECT | Madrid
Clarity, Hidden Soul, Fire of passion by África Guzmán
África Guzmán Dance Project presents an eclectic program, full of strength and sensitivity, composed of choreographies that immerse the viewer in a journey full of sensations, combining neoclassical and contemporary dance, demonstrating the versatility that characterizes this company. From the Mediterranean rhythms of Akbar Moradi to the subtlety of Shubert, the Madrid choreographer África Guzmán shows us in her various works the preeminence of her own choreographic language.
A foundation for dance, born from dance
The activity of the foundation takes place and is linked to Geneva, with the aim of creating a pole of dance there with a local impact and an international influence.
The purpose of the foundation is to promote choreographic art in Geneva, dance education, training and support for young dancers and creators, support for the creation of multi and transdisciplinary artistic projects involving dance as well as dance projects related to the health and well-being of the local population.
Established in 2016, the Dance Area Foundation is recognized as being of public utility, non-profit and subject to the control of the cantonal supervisory authority for foundations.
Rigorous academic instruction
Excellence in arts education
High standards
Open-mindedness and inclusion
Inspiration and healthy competition derived from a multicultural environment
Transmission to future generations
All actions of the Dance Area Foundation, in their diversity, tend towards these objectives
The Dance Area Foundation plays an active role in shaping the future of the performing arts. It supports young choreographers by organizing events conducive to local and international choreographic exchanges. Dancing, joint effort, and gratification are catalysts for wellbeing and health. Open workshops, projects, and coordinated cultural events are organized for the benefit of the general public. The Foundation promotes diversity and inclusion by building a supportive and welcoming environment. The Foundation encourages artists to think of themselves as cultural ambassadors who represent Geneva and Switzerland when abroad. The Foundation raises the funds necessary to implement the above.
Existence is movement. Action is movement. Existence is defined by the rhythm of forces in natural balance. (…) It is our appreciation for dance that allows us to see clearly the rhythms of nature and to take natural rhythm to a plane of well-organised art and culture.